At least that's how long I had to talk about it for a recent session at the SMBiTPros national conference. If you're in Australia and not a member of this fine organization, then get it done.
In this session, I reviewed the very most important parts to start with when setting up your XDR. That doesn't mean, skip the rest. It means start here and then go back through and configure everything. You'll be glad you did. This is a fantastic group of applications that Microsoft has included in M365 Business Premium. A true gift for the SMB community of businesses.
There are a few sections to this presentation. Let's review them quickly.
What is XDR?
First, you need to understand what this is. XDR means Extended Detection and Response. Its implementation is called Microsoft Defender for Business. It's the most powerful security suite that IT has to offer businesses at the moment. And it's a powerful tool for you to be able to secure, automate and respond to attacks on networks.

Prerequisites
Then I talked about the things that you need to have in place before you begin. Make sure that those devices are JOINED to Entra. I also give the rationale for the purchase of the additional licenses. To complete the package, they really are necessary.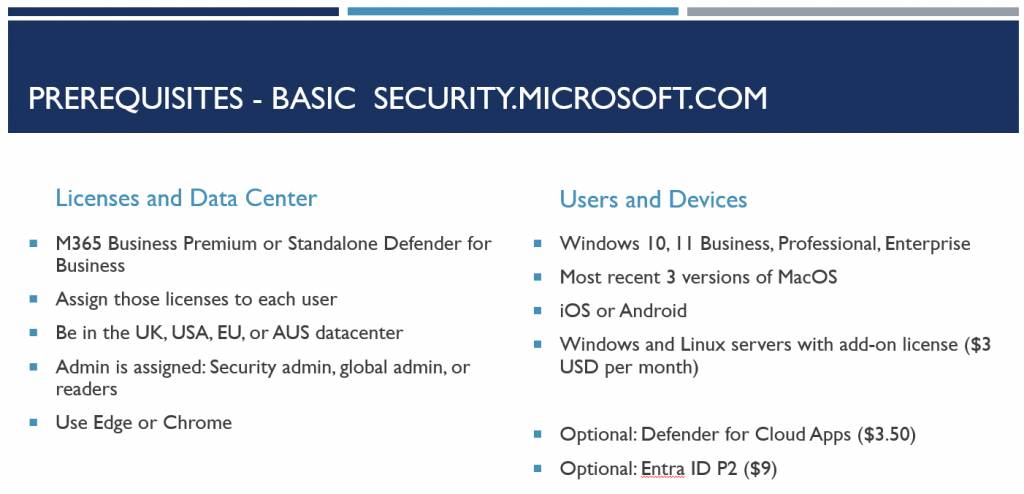 Configuration
From there it's deep dive time. Following the red ball for instruction on where to click. Read the notes in each slide for the details. Nearly everything is done in security.microsoft.com portal unless mentioned otherwise.

Download the slide deck
I've included the notes in the slide. Turn that on (it's at the very bottom of the slide) and you'll be able to see what I intended to say as I delivered this deck. View the desk as a presentation to see the progression for the demos. Viewing the slide in edit mode will only show you part of the view.
Join the class
Join my class to dive deeper into each component of Defender for Business. It'll be starting up in January 2024. Details are coming soon. Go to the website and if there's a pop-up, then you can join the mailing list to be notified when it's time to sign up. If there's no pop-up, then you've already joined the mailing list. If you're on my mailing list, this is the only way that you've gotten on it. I don't buy lists.
If you are in a non-USA time zone, I'm happy to hold a class or peer group time in your time zone, if we can get enough people together. So get some friends and let's do that. 🙂
All we do is support IT professionals. Microsoft 365 technical assistance, Security community, MSP Legislation community, EndPoint, Defender and Lighthouse community, Peer groups, courses, papers, Business consulting and more. https://www.thirdtier.net