Updated April 10th: Microsoft has generously offer free E1 licenses that are good for 6 months to businesses in need of cutting costs or getting people working in the cloud more efficiently. I used them on the hour they first became available to help save a customer that has their retail stores shutdown and further is in a luxury industry. We were able to reduce cash flow outlay by about 70% for licensing.
If you have customers in a similarly dire situation here is how to proceed. First and foremost you need to be a CSP. Only CSP's can make these "purchases". The first step is to contact your distributor and tell them that you need to place an order for the Free E1 licenses and the tenant that it is for. They will open a support ticket with Microsoft and that kicks off the process. Note if you are a school, you should use the free A1 license.
Here's is Microsoft's instruction set: https://docs.microsoft.com/en-us/MicrosoftTeams/e1-trial-license
Shortly thereafter you will get a reply from the ticket they opened and it will contain a unique link that will take you into your own CSP partner portal
They have completely changed the process. Previously, I walked you through how to open a ticket to get a code which you then entered as a promo code and it granted 500 E1 licenses. This is no longer the case. Now it is much simpler.
This item is now added to the catalog for purchase in your Microsoft partner center. It will be called: : Office 365 E1 Trial | Trial offer ID: c0c1386f-4a95-466b-8974-cefd71414def or something similar. At Tech Data the product is this one:

and as you see it isn't actually free but rather $.01 or $3.00 because it only comes in quantity of 300 licenses. However ever they are still free but there's a form you have to fill out. This is probably different from distributor to distributor. Then you'll send that in to microsoft@techdata.com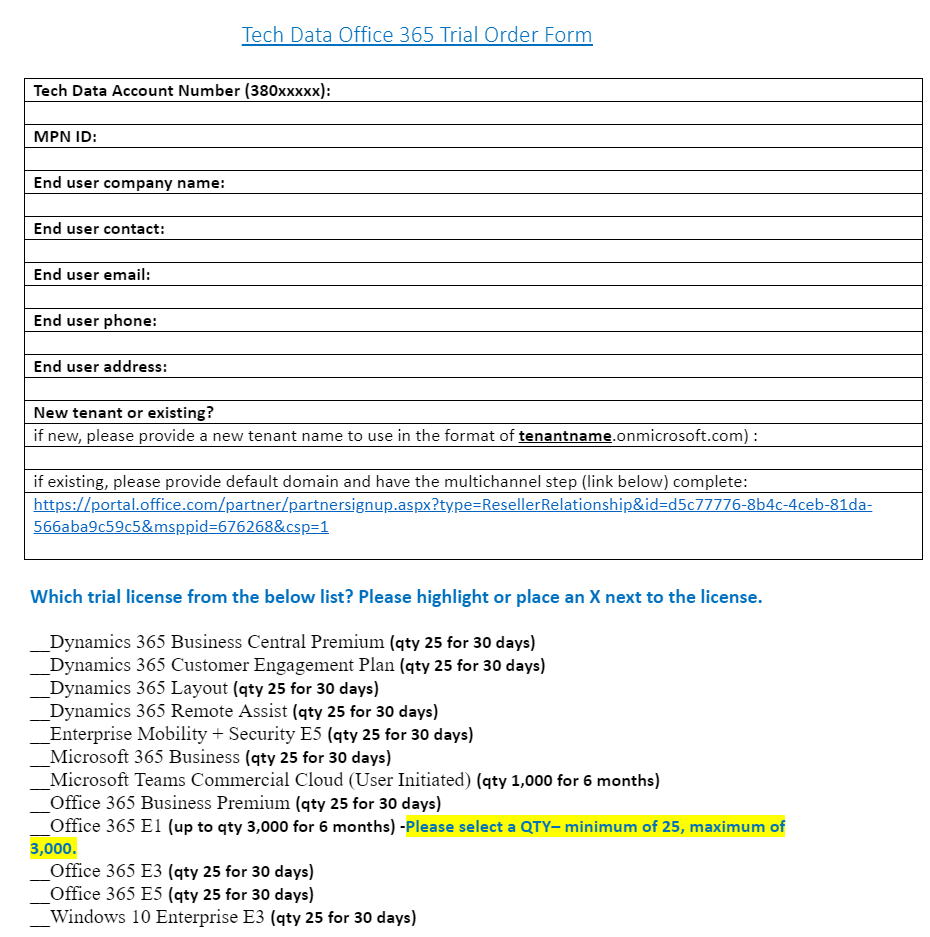 That's it. the licenses will show up as available in the tenant you specify during the purchase process just like a regular purchase. You'll now have a block of 500 300 E1 licenses in the tenant. Un-assign the existing licenses from the users that will be downgrading temporarily to this free E1. Then assign them an E1 license. Finally cancel the licenses that they were using.
In this dire times it's important we do everything possible to support businesses and this offer is a great way to preserve cash flow.
All we do is support IT professionals. Help for IT Pros, Super Secret News, Women in IT Scholarship program, Security community, Kits, papers and more. https://www.thirdtier.net