The headline might be a little strong but in the new Microsoft Cloud Partner program, you'd be a fool if you didn't read it that way, because in areas where you can score points toward your partner capability score is a section granting you points for staff with specific certifications. Having certified staff is a win-win for your partner program score and your ability to service clients with skilled staff.

I'll get accused of drinking the Microsoft Kool-Aid either here, or Facebook, Twitter or somewhere but we've already been though this. I've drank the Kool-Aid and having trained staff is better than having untrained staff. Previously we did all of our training in-house and I led it every other Tuesday evening. There was no test at the end or certification earned, but staff looked forward to learning on Tuesday evenings. However, I must have smelled the changes coming at Microsoft because a couple of months ago we decided that everyone was going for a Microsoft certification and that this would be just the first of many. We studied together for four days for two hours each day. Then each person studied on their own and scheduled the exam.
As each person passed the exam, we celebrated with a Praise in Teams and a gift card.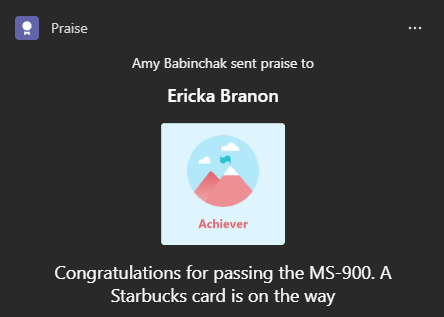 Now that the whole staff has passed, we've scheduled to study for the next one. Our staff chose the dates. 4-6pm Monday – Thursday next week for the MD-101 study. We'll continue this process until everyone has passed their general knowledge courses. Then they will independently move toward their specialization exams.
General knowledge exams
For general knowledge exams we've chosen:
MS-900 Microsoft 365 Fundamentals. Prove that you understand cloud concepts; core Microsoft 365 services and concepts; security, compliance, privacy, and trust in Microsoft 365; and Microsoft 365 pricing and support.
SC-900 Security, Compliance and Identity Fundamentals. This exam measures your ability to describe the following: concepts of security, compliance, and identity; capabilities of Microsoft identity and access management solutions; capabilities of Microsoft security solutions; and capabilities of Microsoft compliance solutions.
MD-101 Managing Modern Desktops. This exam measures your ability to accomplish the following technical tasks: deploy and upgrade operating systems; manage policies and profiles; manage and protect devices; and manage apps and data.
MS-100 Identity and Services. This exam measures your ability to accomplish the following technical tasks: design and implement Microsoft 365 services; manage user identity and roles; manage access and authentication; and plan Office 365 workloads and applications.
We chose these exams because these are the things that we wish every incoming tech would know before we hired them. There was a time, when you could not get a decent job unless you had Microsoft MCSE certification. Then certifications got a bad name because of "paper MCSE's". These were people who could pass an exam but had no practical experience. Since that time Microsoft has invested in certification exam development. It's been a long time since the paper MCSE was a thing. In an exam that I recently took, there were lengthy case studies of 2-3 pages of reading material, before a set of questions against that scenario were presented for example.
There's another thing that killed certifications and that was the pace of change. Previously exams were refreshed once every two years but in todays cloud era, two years is the change equivalent of a career on-premises. To fix this problem, Microsoft recently announced that exams will be refreshed every two months. This means that your current portal configurations and settings will be reflected on the exams. This also means that your study materials have to stay current too. There's going to be a lot of work out there for Microsoft Certified Trainers!
How are we studying?
We are using several sources for study materials because everyone learns differently. Here are the various materials that we've chosen to provide to our staff to aid their studies.
Microsoft Learn/Microsoft Docs. Some staff loves to learn from video. Some love to read. This provides both. Learn/Docs are also the official source material for Microsoft certifications.
LinkedIn Learning. Online video courses. You will need an upgraded license of LinkedIn to access the courses. Most are given by Microsoft Certified Trainers
Pluralsight. Subscription based video and hands-on simulation training. It also provides practice exams for most certifications.
Pearson Vue Official practice exams. These exams are available when you sign up for the exam to aid in your final days of exam cram. These practice exams are the most like the official exam.
Demo Tenant We are a silver partner and have access to Microsoft demo tenants. We also use these tenants to practice configuring settings and policies.
Impact on the MSP
There are both costs and benefits to educating an MSP's staff. The table below highlights the majority of those.
| | |
| --- | --- |
| Cost | Benefit |
| LinkedIn Learning: $29 per month per person | Partner program skilling score |
| Pluralsight: $45 per month per person | Well trained staff |
| Pearson practice exams: $99 for 30 days | Group activity |
| Exams: $99- $165 each | Professional growth |
| Time: One hour per day from the business, one from the person | Competitive advantage |
I supposed I'd be remiss if I didn't mention the age old objection to absorbing the cost of training. Question: "What if I train my staff and then they leave?" Answer: "What if you don't train them and they stay?" According to the Internet, Richard Branson had something to say about this too.
I'll leave it at that.
If you're a Microsoft partner, or even if you're not, it's time to up your game. Education of technical staff is more critical now that ever before. Understanding new threats to identity, new compliance requirements, new ways of managing and securing data, new everything in this fast paced technology time that we're in, means that you have to start running or get run over. There are going to be a lot of newly certified people coming to market because of this requirement. We'll see the day again where if you aren't certified then it's going to be more difficult to get a job in IT. And if your skills aren't up to the modern MSP standards, then you and your company might end up in a disadvantaged competitive situation.
Don't be the bug. Be the windshield.
All we do is support IT professionals. Microsoft 365 technical assistance, Super Secret News, Security community, MSP Legislation community, EndPoint, Defender and Lighthouse community, Peer groups, Kits, papers, Business consulting and more. https://www.thirdtier.net