Let's get right down to the math. If you don't like math, then this is going to be a really boring blog post. I'll summarize for you. M365 projects are far more profitable than infrastructure projects so do more M365 projects.
Infrastructure project
Below is a typical infrastructure project for a small business that we performed several years ago. Our markup was 10% on hardware and software. Our billable rate was $100 per hour, and we estimated 60 hours for this job. Our total revenue for the project was $32,892.01. Not considering the cost of labor, our profit for this job was $8,689.20. We were able to do a project like this for the client once every 4 years. This is a profit percentage of 26.4%. Not too bad, we were very pleased. We were able to do projects like this for about 1/4 of our clients each year.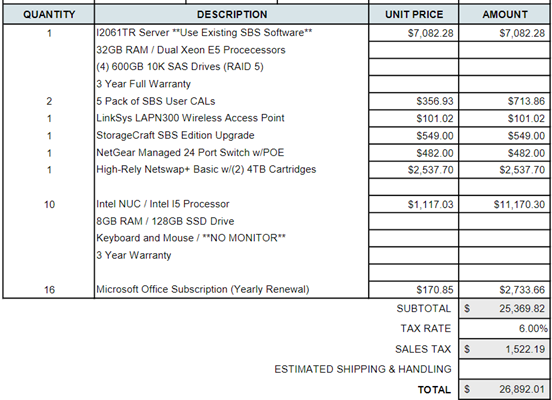 Cloud Migration project
We transitioned from servers to cloud for most small businesses, eliminated all the local infrastructure except for the personal devices. Below is a typical migration from on-premises into Microsoft 365. The mark-up on these items is completely different. Hardware and software are still 10%; we make 16% on M365 every month, 83% on backup every month not once every four years. Our labor rate has also increased to $125 per hour. Normalizing the time schedule to four years for comparative purposes, our profit would be $5,129.90. We were happy with this too and we were doing them at about twice the rate we did hardware refreshes. The move to the cloud was rapid.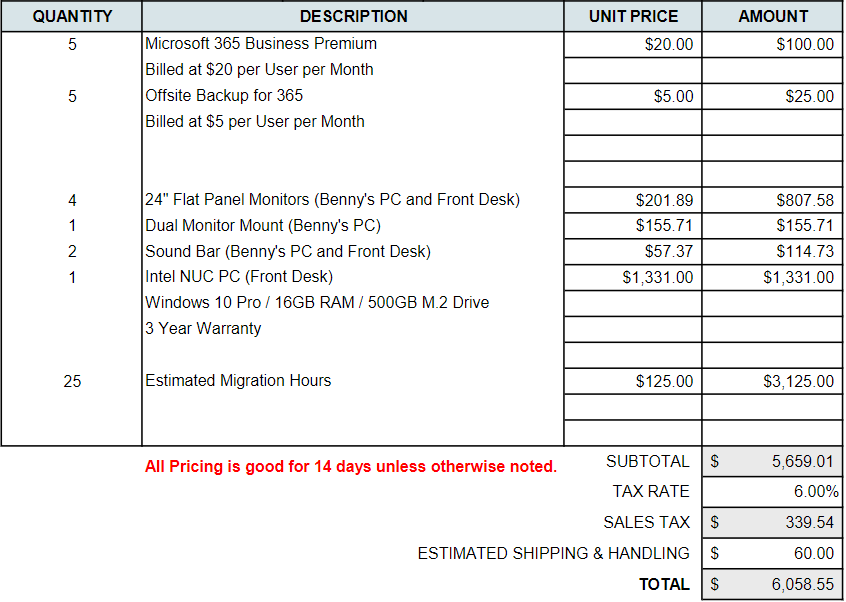 Normalize the projects
So now we have two very typical small business projects. One from the days of infrastructure and one from the days of migration to the cloud. But if we want to compare them, and we do, then we need to normalize those numbers. To do that, I'll remove the PC hardware from each and increase the number of users from 5 to 10 for the cloud migration. Then we'll scale the cloud costs to four years so that we're comparing apples to apples.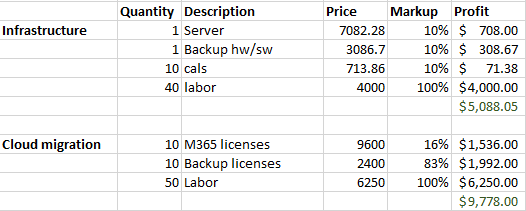 Once we've scaled everything to the four years, our migration to the cloud beats our infrastructure upgrade in profit by 52%, because some of the revenue is trickling in over the four years it also stabilizes income for the IT firm. This isn't the end of our story though.
Cloud Projects
After the migration to the cloud now what? This is where many IT firms are getting stuck. There are no more migrations, no more once every four years big re-fresh of equipment. Sure, there are still new PCs to deploy and there is still management of the network and 365 but we haven't taken that into account in our comparison, because there was always that on-going revenue source. We need to replace projects.
When replacing projects in the case of cloud, we're looking at 100% labor. Since in our comparisons we haven't taken into consideration the cost of labor we won't here either. Labor in this case is 100% profit for these purposes.
We have a lot of choices for recovering and even increasing our project revenue using Microsoft 365 applications and even more if we consider the feature set of things like privacy, security features, and automation that are included.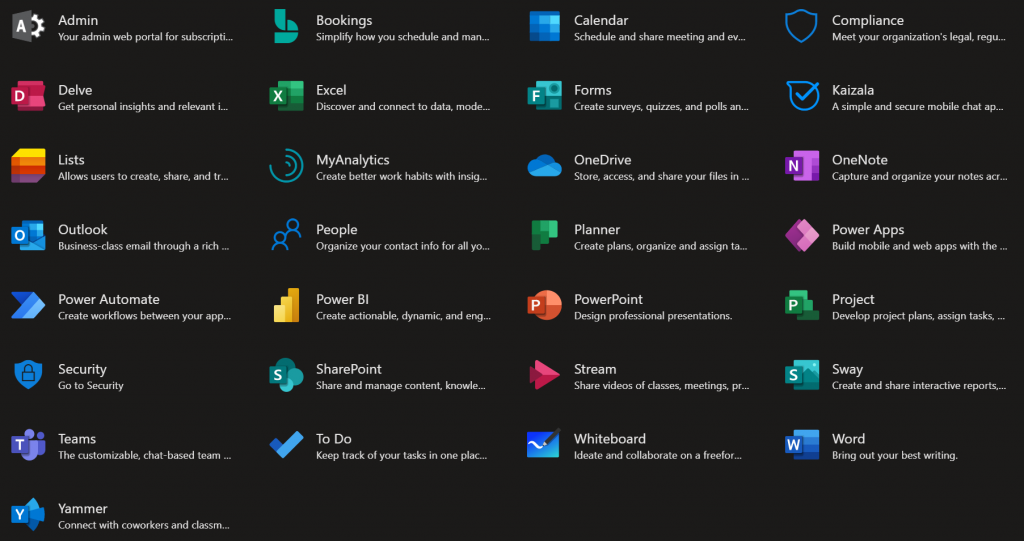 Here is what we must do to meet or exceed our previous once every four years project profits of $5,088. Being realistic, we did not do these projects for every client in a single year. Instead, ideally, we did it for a quarter of them to spread that revenue out and to balance the staffing. That same sort of balancing happens in the cloud but for a different reason. Instead, not every project in M365 is going to appeal to every client. But there are enough projects that every client will be happy to have you implement some of them some of the time.
The cloud works on a different time scale, so we must make some adjustments again. This time we need to get down to monthly. Our monthly number to beat is $106. This is derived by taking the four-year profit number and spreading across those 48 months. Monthly is how the cloud works.

If we'd like to make more money from the cloud than we ever did from infrastructure, then I think we shouldn't be worried. Of the $106 that we need to re-coup, we're already doing that with our $73.50 monthly income from licensing. That leaves only $33 a month that we need to do in projects with our client.
With all the applications and features available to us and this era of digital transformation, our ability to earn $33 a month from each client has never been better. The future has never been brighter.
This year I'm teaching a series on M365 projects. So far, we've covered Bookings, Request Files, Automated quote approval, automatic file upload to Teams, expense submissions, Vacation calendar with time-off approvals. At the end of April, we'll be adding four more projects to the list. None of these projects are large. They are designed to be easy to deploy and appealing to a client in a wide variety of industries. The point is to increase revenues for your company and doing that means learning to deploy projects like these.
If you'd like to learn how to deploy projects in the cloud, then please join our class live or purchase the recorded sessions individually. In these classes, I show you how to configure, consult and train your clients on these modern technologies. This is about incrementally being able to deploy new applications and new features. It is not about a HUGE project. It is all about applications, training, and digital transformation. Once you grasp those, your firm is going to make more money from the cloud than it ever did from infrastructure.
All we do is support IT professionals. Help for IT Pros, Super Secret News, Security community, MSP Legislation community, Kits, papers, MSP training and more. https://www.thirdtier.net