The other day Karl Palachuk's excellent newsletter (sign up here) was on the topic of taking time to focus so you can work more efficiently. This is a very important topic. Karl talked about the why, but not the how so allow me to make a suggestion.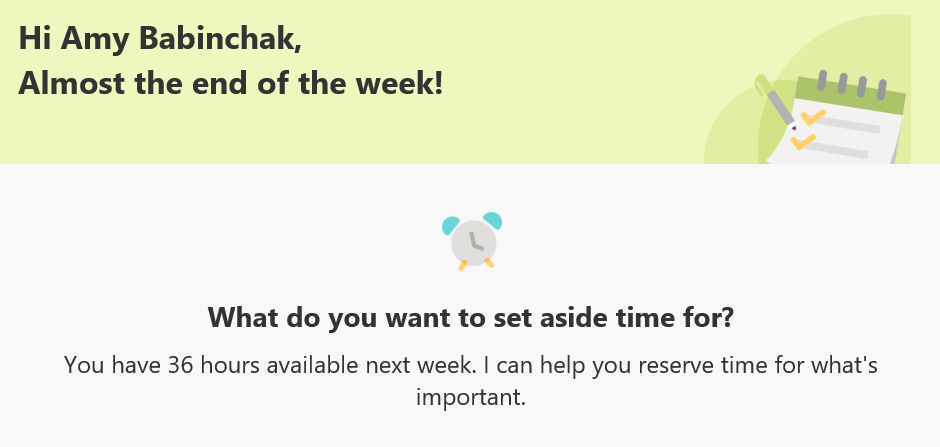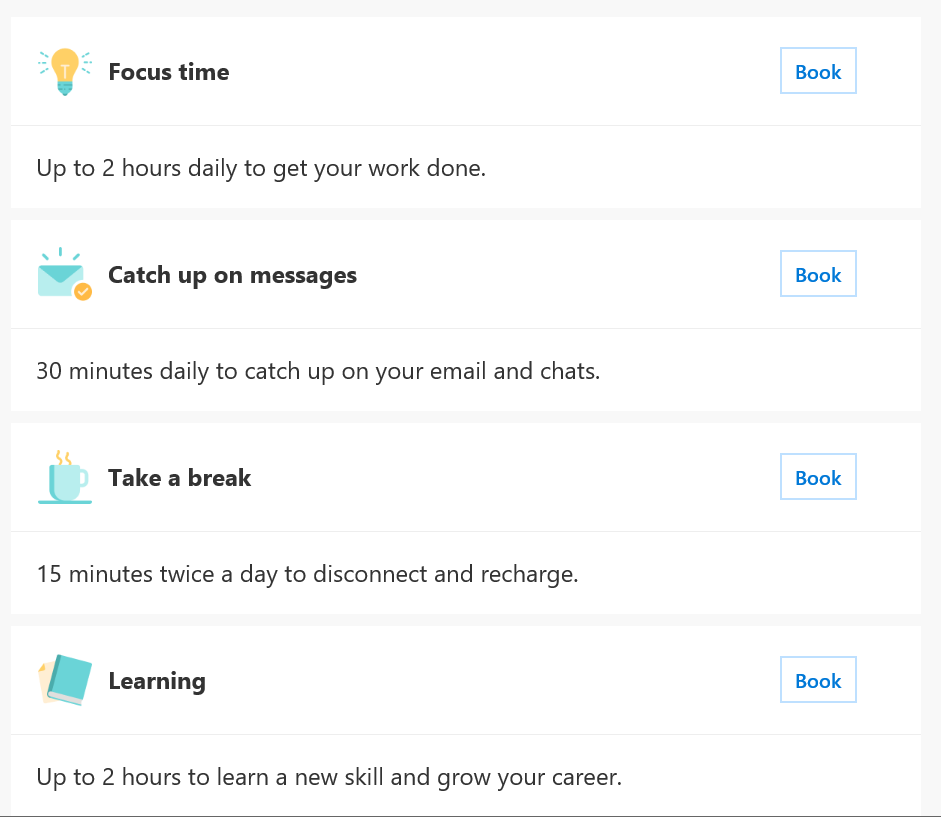 This is the Friday edition of the Cortana briefing email. Cortana is the digital assistant built into Windows. On Friday's she sends me an email prompting me to schedule focus time for the next week. As you can see, I can click the Book button to put Focus time, mail catch-up, breaks and learning time onto my calendar. This will prioritize these items by getting them onto my calendar now before the upcoming week fills up.
During the week, Cortana sends me a different type of email. In these emails, she reminds me of coming appointments and things I may have promised someone that I would do. She collects these from my calendar and by monitoring email for phrases that indicate that I said I would do something for someone or that they are going to do something for me.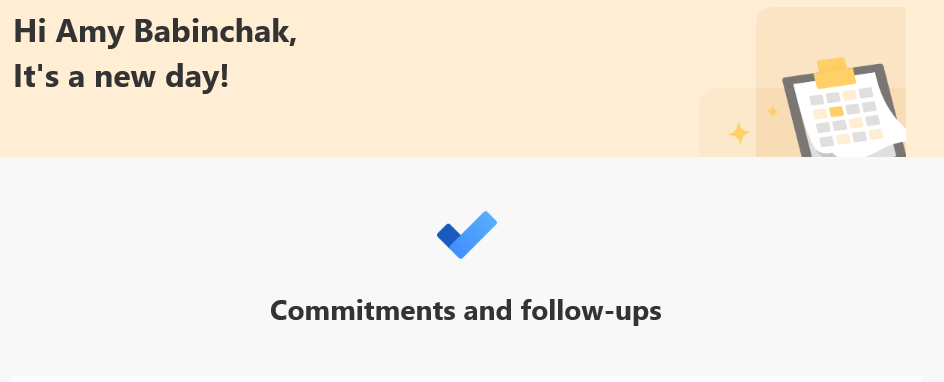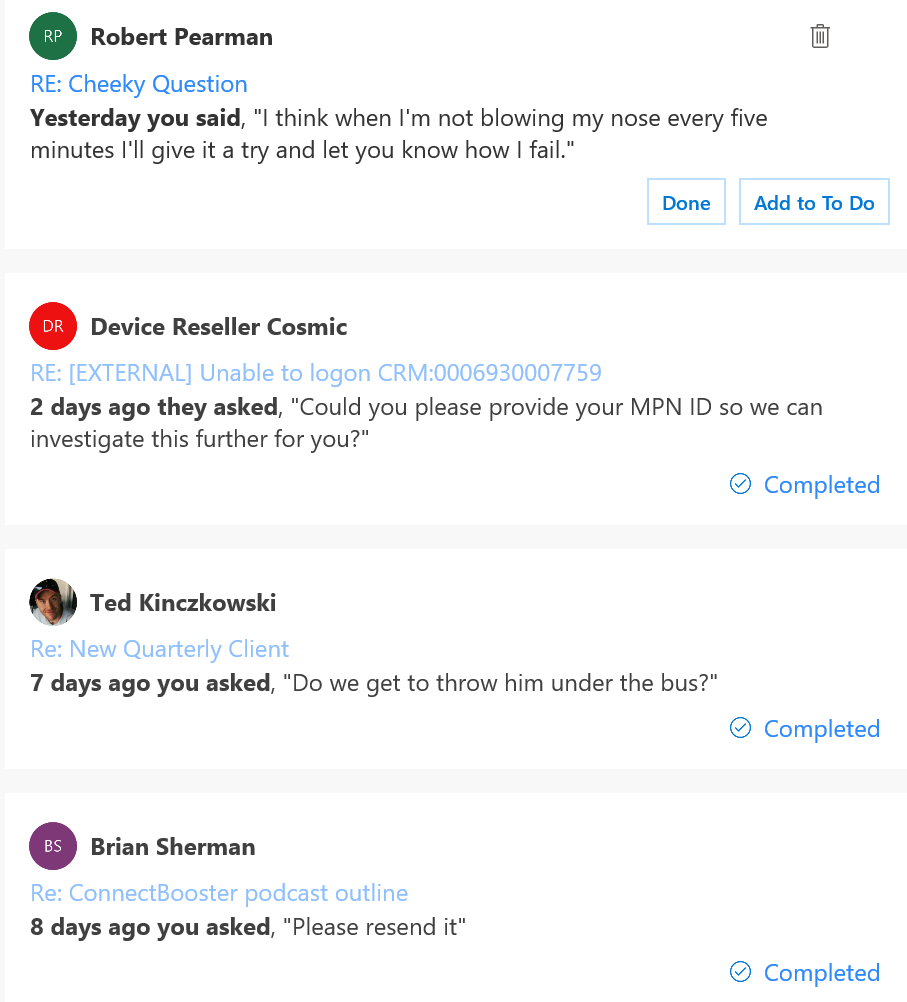 Cortana does an excellent job at picking out when I said I would do something or when I asked a question of someone but may have not yet gotten an answer from them. I can then choose to take an action on the reminder of Trash, Done or Add to To Do, meaning it'll become a task for me. I'm a very busy person so I find it helpful to be reminded of what I have committed to doing. In email it's often very small quick tasks that need to get done so this is an easy way for me to tick through them.
These Cortana Briefing emails are a feature of Office 365, specifically the Exchange Online license. To turn it on for your Tenant, open the admin center, then navigate to settings/Org settings/Briefing email and then simply check the box to enable it for everyone.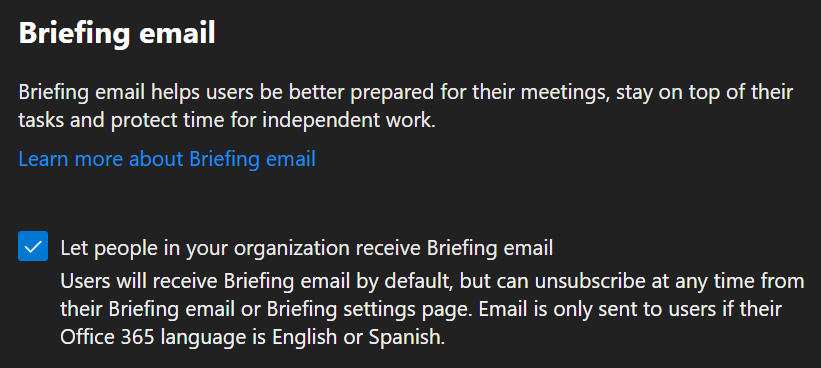 If individuals want to opt out or change their preferences for the email, they can do so at https://cortana.office.com There aren't a lot of options, but they can change the time of day or opt out.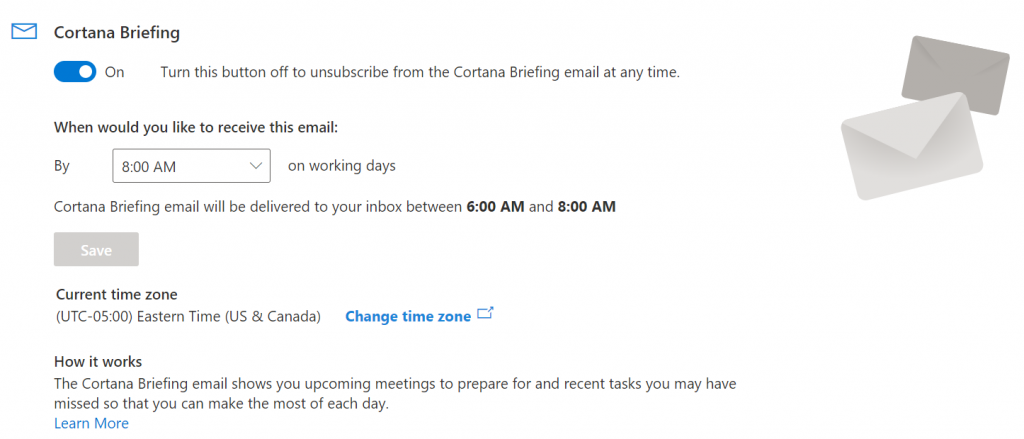 I'll say this. Give it a try and turn it on even if you expect grumbles. I turned it on, everyone grumbled at first but then after a couple of weeks they began to see the value and now they depend upon Cortana for those reminders. Every little thing you can keep out of your brain and let a robot do for you is a good thing. It lets the humans focus on what's really important.
All we do is support IT professionals. Help for IT Pros, Super Secret News, Security community, MSP Legislation community, Kits, papers, MSP training and more. https://www.thirdtier.net