Say you've created a great form in Microsoft forms that you then want to use for another client. Can you export it from where it is and import it to another client? Yes, you can. In our Forms class Sharon touched on this and provided some resources. She also showed how Forms saves the Excel file that contains the entries in different places depending on where you start from. But for an imported form the path is very specific.
Here's how to export and import a form
To export your form, go the Share button and then copy the URL from the share as template button.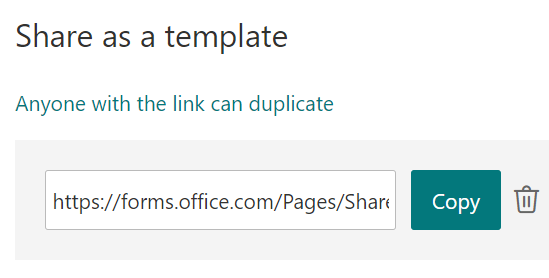 Then paste the URL into a new browser instance for the destination client. You'll see the form open but with a banner at the top and button that says Duplicate it. Press that button. You'll be asked to log in if you aren't already.

A moment later the form will have been copied into the account that you're logged in with and you'll be in the Form editing window. You can now edit the form for the destination client, if necessary.

Moving to the responses tab you'll see that there aren't any. Which is good. No client data was copied. Only the form design itself.
Fill out the Form to get your first response and you'll see that the Open in Excel option appears. When you click that a new Excel file will be generated and downloaded to your computer.

Each time you click on Open in Excel a new Excel file is generated so where is the data stored? Microsoft has this to say, which means that it is stored in your tenant in an inaccessible Azure location.

Can we manipulate that data? We can but first we'd have to use a Power Automate flow to gather the data as it is entered into Forms and deposit it into a SharePoint list or another Excel file. We can't manipulate the data stored in Azure.
In our next Forms class I'm going to show you how to create a full "application style" solution using Forms, Power Automate and SharePoint together. We'll end up with an "app" that's as usable on mobile as it is on desktop, has easy reporting and automatically sends summaries via email to the appropriate places for each entry. It's a Form solution that is easily modified for use in a lot of different industries.
All we do is support IT professionals. Help for IT Pros, Super Secret News, Security community, MSP Legislation community, Kits, papers, MSP training and more. https://www.thirdtier.net